How often do you really take a look around you and let your eyes and mind explore all that captures your attention along your path...? I know I am guilty of running on auto-pilot many times, just as much as the next person. However, when I do actually decide to gear down and enjoy a walk in town, I have to say it is the most rewarding feeling. Such was the case a couple of days ago while I was in central Athens strolling down Mitropoleos street checking out the stores on either side. And there it was...! "NAMFLEG" was the name...!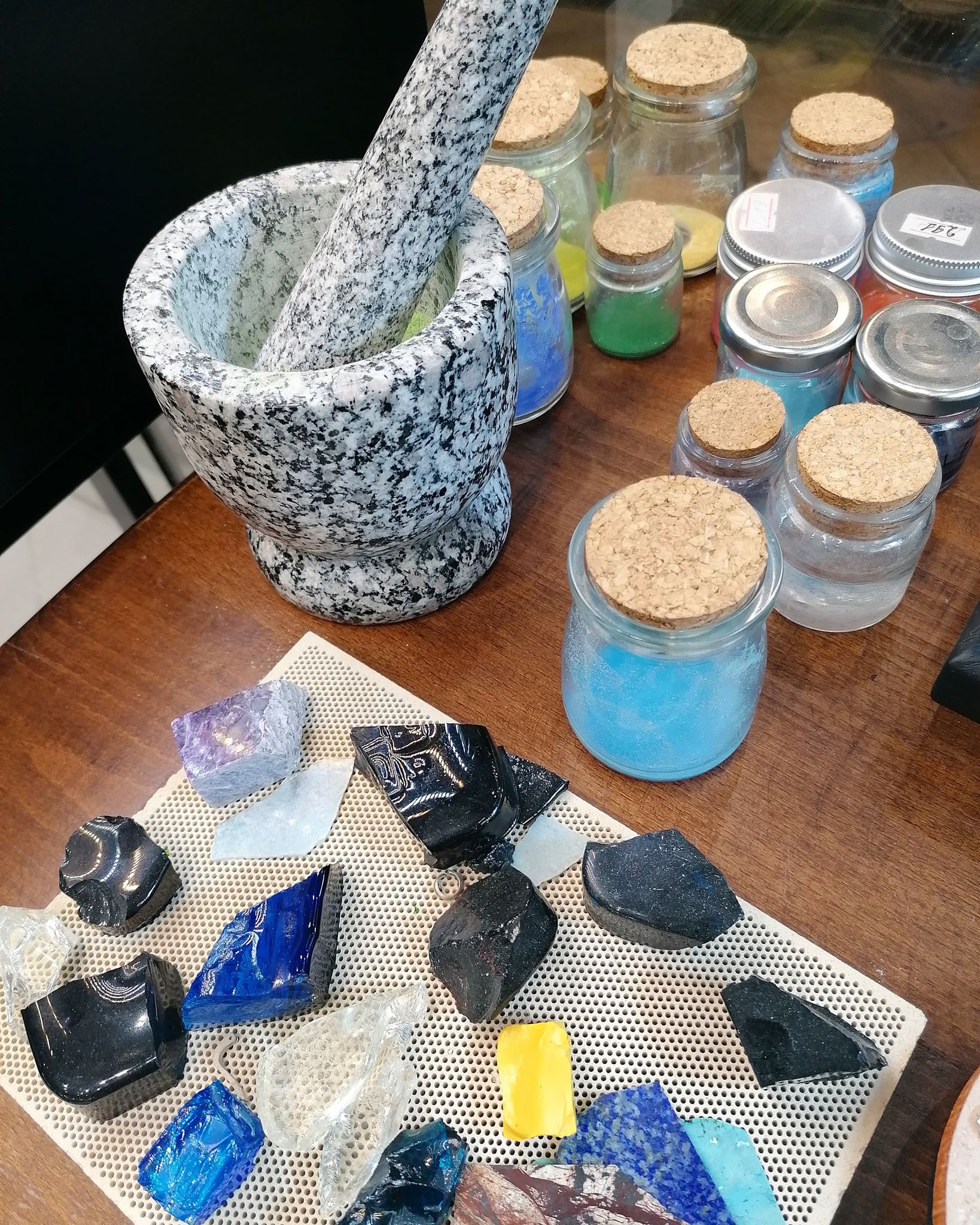 Not giving a second thought, I paced in and was greeted by a lovely and truly welcoming gentleman, both pleasant and professional. Not only did he assist me in finding some adorable pieces of jewellery that matched my taste, but picking up on my artistic nature, he proceeded to give me the full tour of the "Namfleg" creations in store and explained the procedure every item went through from start to finish. The flat screen near the entrance was a smart touch as one could have a visual experience of how the jewellery is made.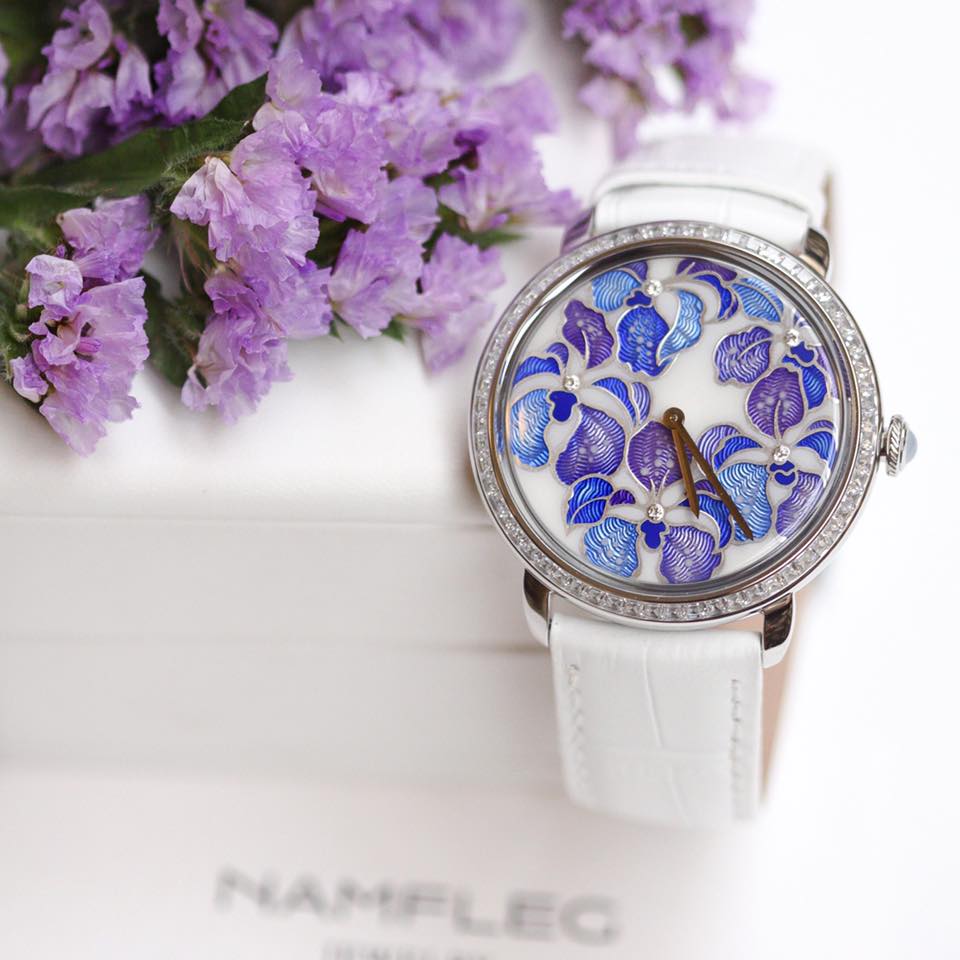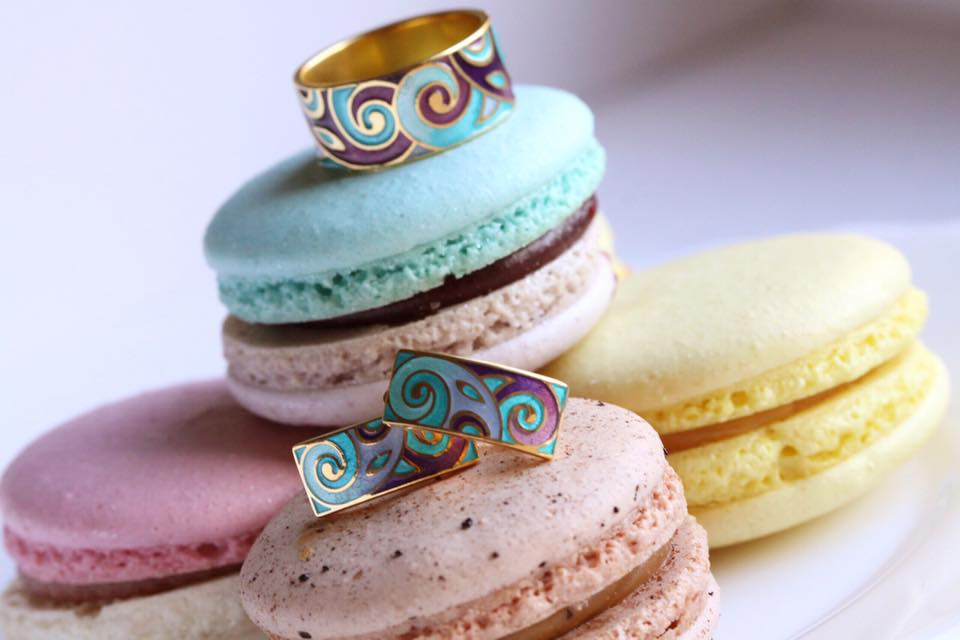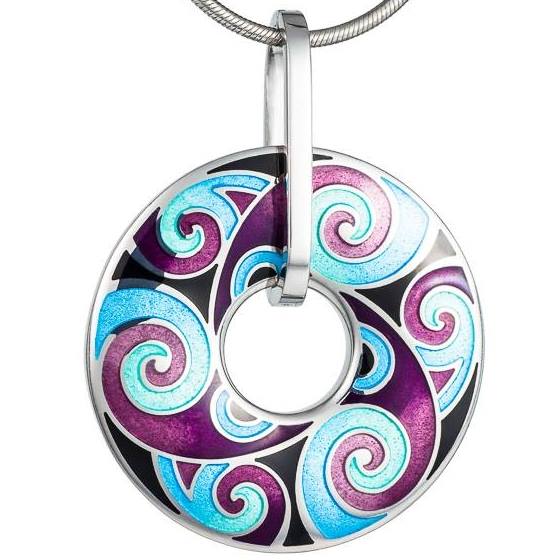 For more than 10 years "Namfleg" has been creating hot enamel silver jewellery with rhodium or 24K gold plating. Inspired by the great traditions established by the House of Faberge, the cloisonné hot enamel jewellery meets the highest standards of quality and has authentic design.
NAMFLEG jewelry is a love story between silver and fire enamel. Namfleg artisans have combined precious metal and melted glass and put some warmth and tenderness into each piece.
Cloisonné enamel technique is the most sophisticated and laborious of all enamel techniques. It's about creating a unique pattern on the jewelry piece by soldering a hair-thin gold or silver wire. After that enameller places the powdered enamel into each cloison and fires the piece in a kiln at 800°C. Enamel fills in all cloisons, melting into a colored glass – a timeless piece of art.
THE ORIGINS
Namfleg enamel jewelry continues traditions of Egyptian and Byzantine artists from the Carl Faberge's workshop. Just as it was 140 years ago, all jewelry pieces are handmade by highly skilled artisans. 
IDEA AND SKETCH
Work on each article starts with drawing a sketch inspired by masterpieces of world art and sculpture. Along with creating a drawing a wax model is made which will be a product prototype.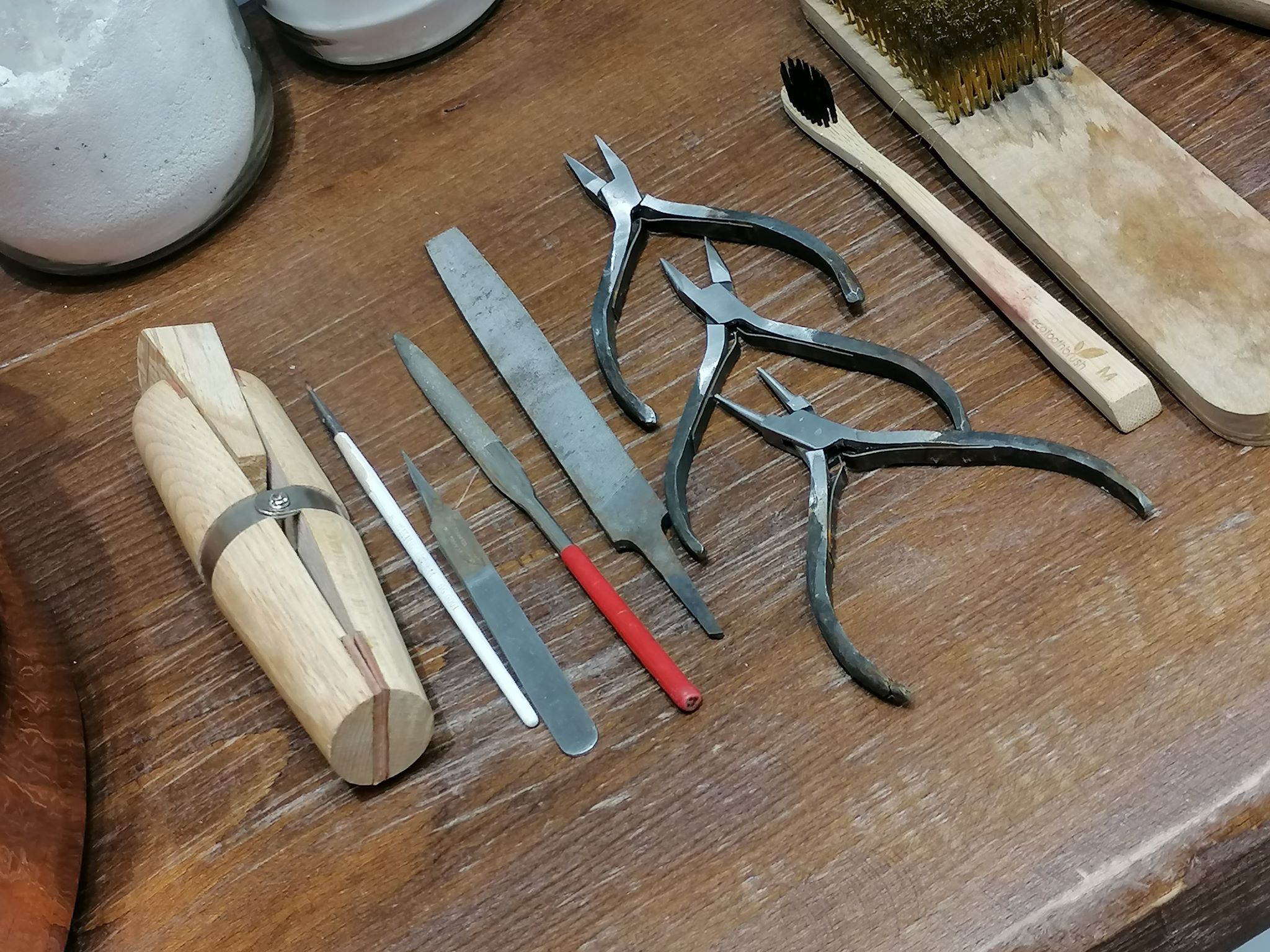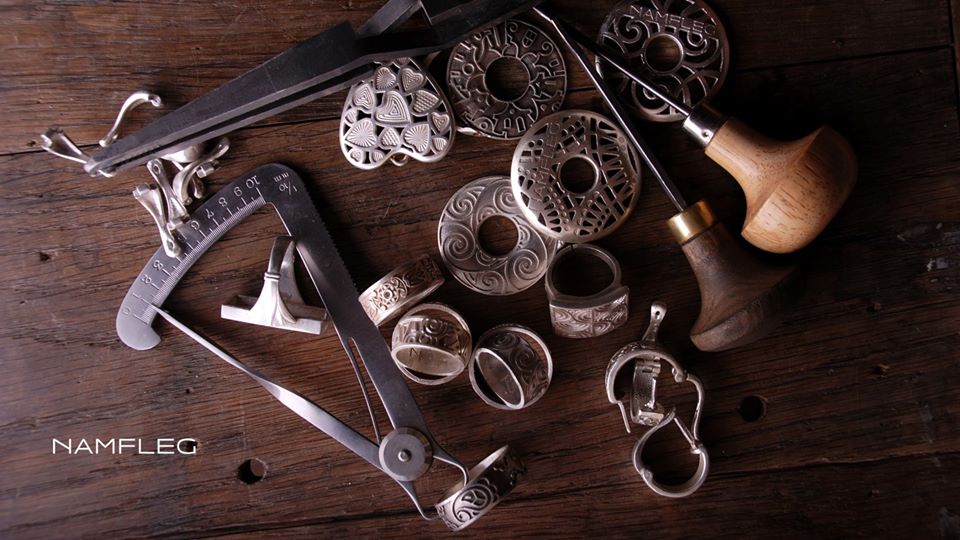 ENAMEL APPLYING
Selected enamel plates are ground to fine powders and then color testing on silver is made. On the next stage enameler places the fine colored powder into each cloison and puts the piece into a kiln.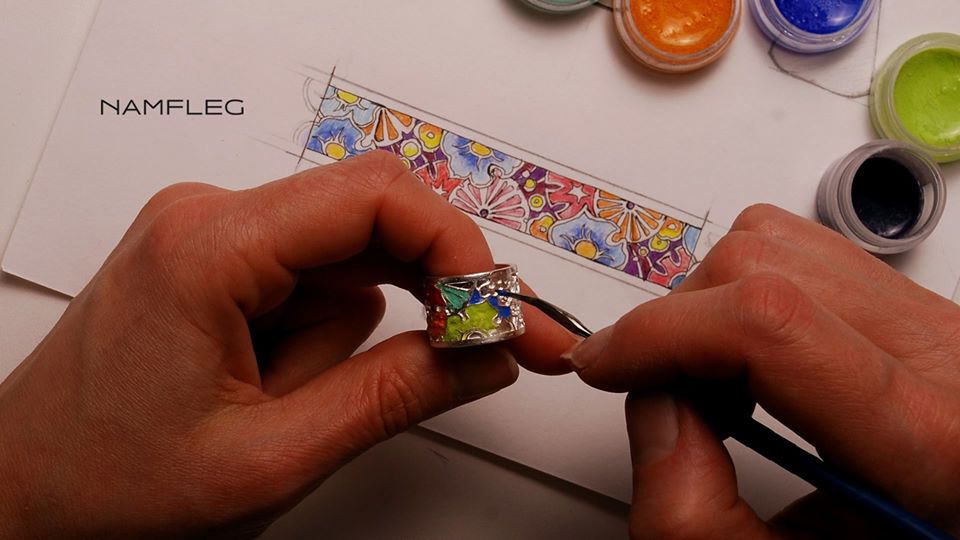 FIRING
Enamel pieces are fired in the kiln at about 800°C. Enamel evenly fills in all the cloisons, melting into a colored glass – a timeless piece of art. During the firing process enamel in the cloisons sinks down a lot, so this process is repeated several dozen times until all cloisons are filled to the top of the wire edge.
POLISHING AND GALVANIZATION
The final step is polishing. It is at this stage the jewelry piece gains unsurpassed brilliance and beautifully catches the light. To preserve the appearance each piece is gold or rhodium plated.
SCARVES - A touch of Silk
A lovely colorful collection of delicate 100% pure silk scarves created in collaboration with a French artist Alexandra Otieva will bring a touch of luxury to your everyday wear. 
"OWNING" IT, WITH GRACE AND STYLE
In the past only the elite could afford to hold and wear enamel jewelry. Nowadays this opportunity is open to everyone, though only those who really value beauty and skillfulness of artisans can appreciate these pieces. 
As it was 4,000 years ago, enamel fascinated with a rich color palette, turning Namfleg creations into something more than just a jewelry. It's an organic material that embodies the most amazing ideas. Cloisonné enamel jewelry is a modern luxury that you definitely can afford.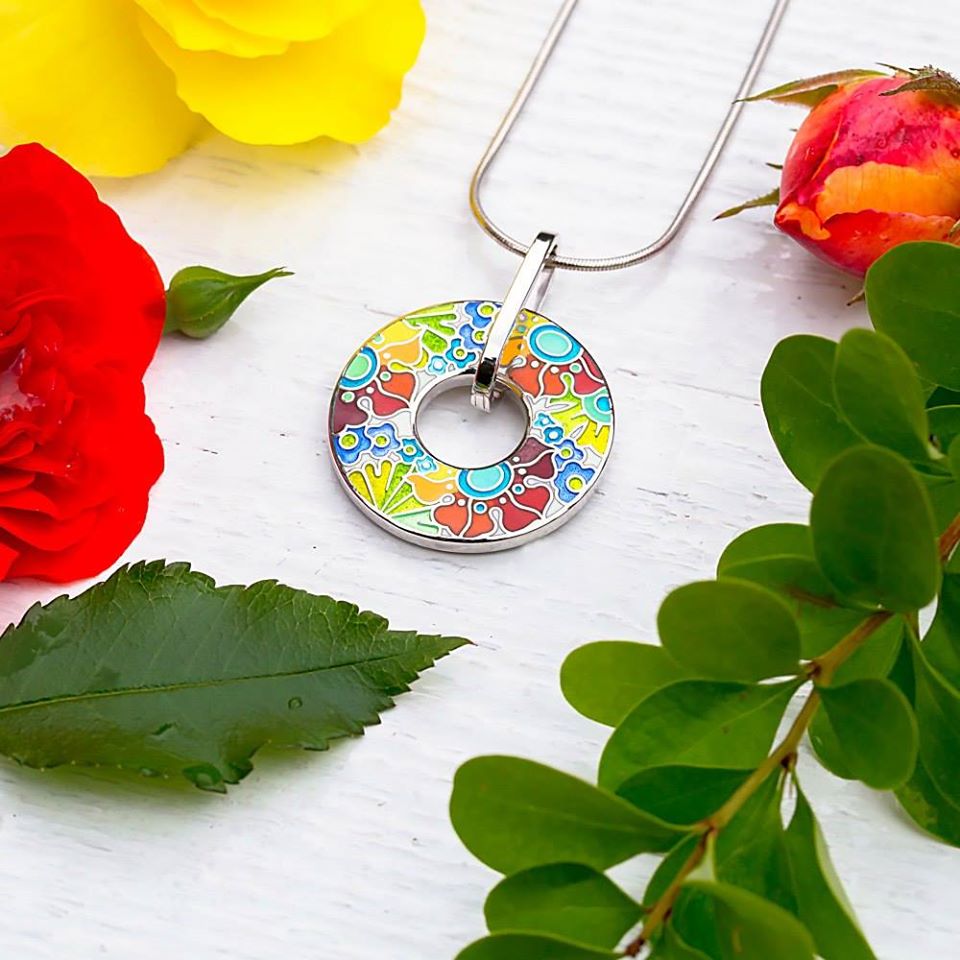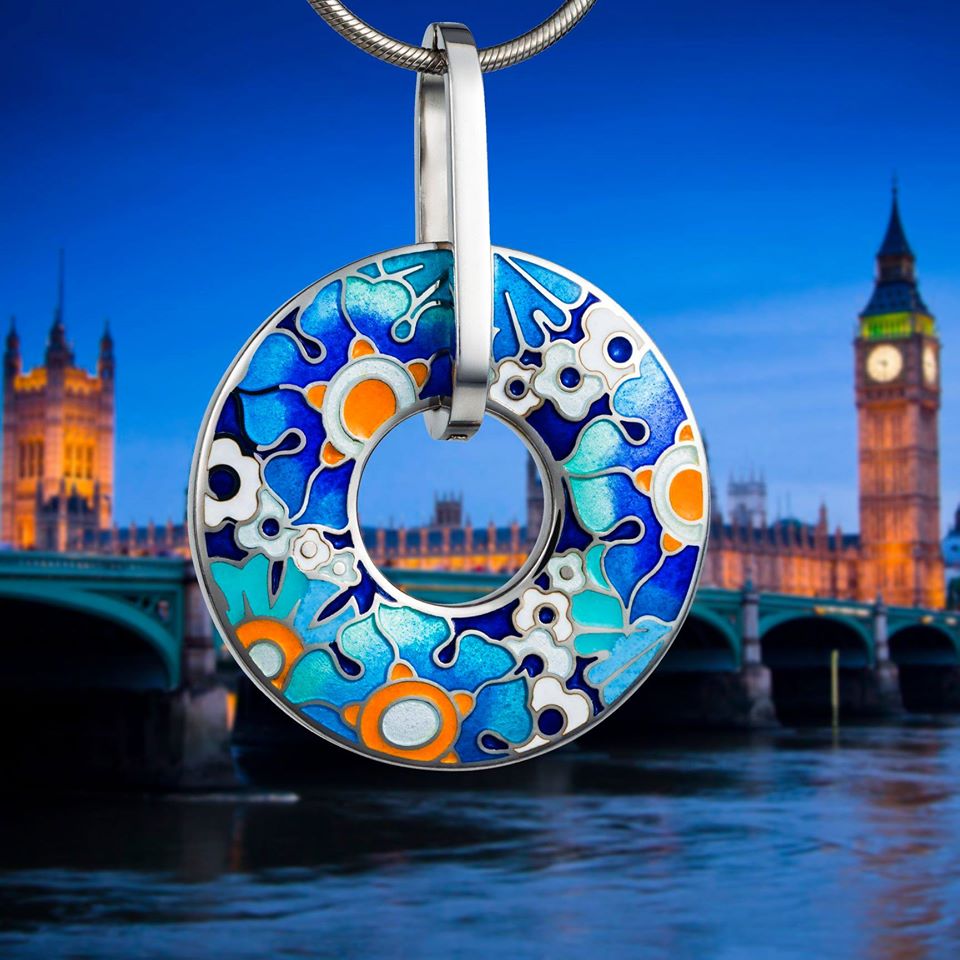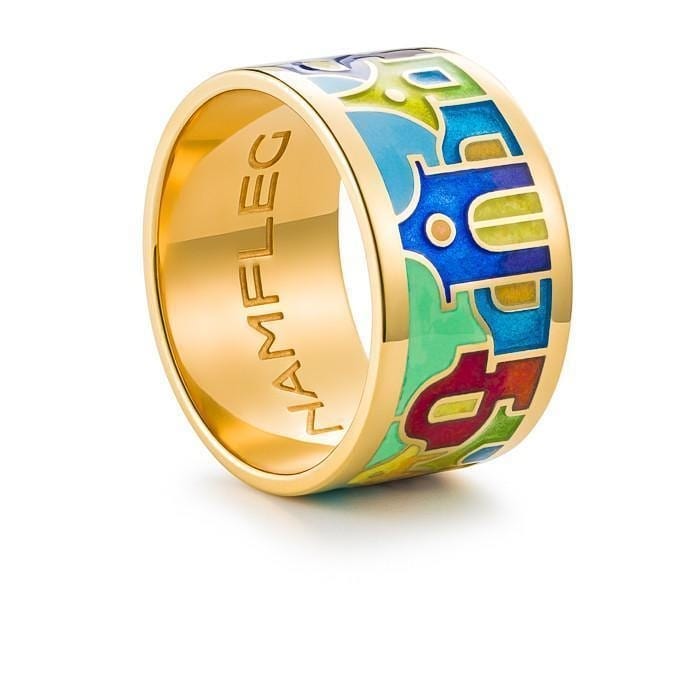 Retail stores are located in:
Moscow, Zurich, Kotor, Tallinn, Athens, Santorini, Mykonos, Corfu, Belgrade, Split, Mostar, Dubrovnik, Budva.
For more information, visit their official site: www.namfleg.com